SOLICITORS' REMUNERATION (ENFORCEMENT) RULES 2004
---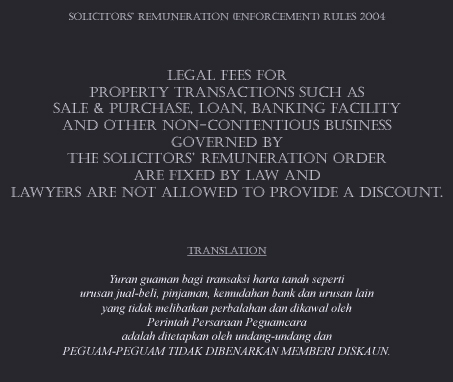 Remember, the bitterness of poor quality service remains long after the sweetness of low price.
SOLICITORS' REMUNERATION ORDER 2006
---
Please take note that the Solicitors' Remuneration Order 2006 was gazetted on 31 December 2005, and came into force on 1 January 2006. Please refer.
---
Disclaimer :
Information and hyperlinks contained in http://www.liewchambers.com are for client reference only, and shall not be regarded as legal advice. Take note that the Liew Chambers does not guarantee the accuracy or reliability of such information, and disclaim all liability resulting from any reliance thereupon. Liew Chambers also does not endorse any information contained in or view expressed in any other webpage linked to our website. Applicable is our disclaimer statement.